Hi everyone, I want to buy a mast for the DLS2 light sensor for my Micasense Rededge MX on to an M210. I have been using a GoPro mount and it is decent. I am just not crazy about counting on the 3m to hold this expensive light sensor in place. I also dread the consequence of it falling off and potentially spending time with the props. So if you have a mast, I am interested. Even better if someone has a 3d model, I would even pay for that.
I do have a light sensor mount for an Inspire 2. They mount above the nose of the AC. It is slightly too wide for my inspire 1's. If someone needs one of these, you can have it for $25. Maybe an Extra $5 for shipping regular mail. It was mounted and used only a couple times.
Finally, I made some spare cables for the light sensor. It was a bit of a pain finding the connectors and now I have spares. If someone needs a couple, give me postage and I will send a couple to you.

Let me know how much of this 28g wire you want with a couple ends. I spliced and added cable to get the length I wanted.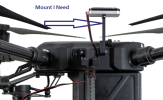 This is the style I would like however I would look at other options if you have something clever.

I am going to cross post this.
Last edited: