Hey doods!
Full disclosure; I signed up for my MatricePilots account quite a while ago, but didn't start flying the Matrice line until recently. So I thought I would sort of "re-introduce" myself to the forum.
So one of our business partners recently purchased an M300 RTK / YellowScan™ LiDAR package from Frontier Precision. Loosely described, the three of us have been business partners for about 6 years. My immediate partner handles the survey side of the business and I handle the drones. The reason for revisiting the MatricePilots forum is I am hoping to find other mappers out there who are utilizing LiDAR, specifically the same package we use. We utilize the following technologies:
* Matrice 300 RTK (though we don't use the RTK)
* YellowScan Mapper+ (LiDAR unit) with Sony A600 camera (for colorization of the point cloud)
* UgSC waypoint software
* YellowScan LiDAR software (business partner handles that, so not in my wheelhouse)
After a couple days of training we started working. So far, 3 or so weeks in, we have about a dozen small jobs (< 20 acres) under our belt. So we're still kind of getting our kit together...


...and our workflow perfected. Generally speaking, we learn something new every time we fly.
I have found my old Dell 22" monitor difficult to see outdoors (and my laptop monitor impossible to see outdoors), so I recently purchased a 1200 nit, 24" monitor from AbraxSys. It's due to arrive in a couple days. For now, while the old Dell is barely visible, it IS visible.
Many of our jobs take us far away from Internet and cell service, so operating "off the grid" was an absolute must. With this software/hardware package we have achieved that. The UgCS software allows me to download maps (satellite maps, not those crappy cartoon maps). And while the above photo shows us operating out of the back of a pickup truck, some jobs may require we hike to the top of a hill (to maintain LOS) that may not be accessible via truck. So we're trying to set up our equipment to be AC power-independent. Obviously, if we need to charge batteries we'll have to utilize a generator (the pickup has a built-in 400 watt [not confirmed] AC outlet). For now we're utilizing the pickup's AC outlet to power the monitor and keep the laptops charged. My hopes are that the truck sources more than 400 watts, as the charger requires close to double that. Working on that... But I digress...
One of the hurdles was creating a LAN, which UgCS requires to connect the laptop to the M300 controller. Having a Computer Science degree, I found the typical "smart phone hotspot" suboptimal. For one, I use a flip phone. So I have no "hotspot." And we found the connection to my business partner's smart phone less than reliable. He often has to coordinate with the survey crew, which is done via phone calls and/or texting. This extracurricular activity kicked my laptop and the RC off the network several times within the span of a mere 5 minutes. So I decided to simply set up a battery-powered LAN that I essentially built into the case. I utilized one of my old Phantom 4 Pro batteries and an old D-Link router I had in my parts pile. This set up works fantastically.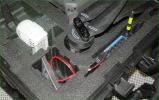 My laptop and the RC connect to the network automatically, so it's a simple matter of powering up the battery. The router is an old D-Link utilizing WEP2 encryption.
Shortcomings so far:
* The LiDAR/Camera combination nets ZERO telemetry data. This has bitten us a couple times. There is a routine required to start the camera. The problem is that the camera doesn't start until it reaches altitude. Obviously, we can't see the flashing lights on the LiDAR unit 60 meters up. A couple times the camera didn't start taking photos until part way into the mission. This forced us to refly the mission. And while the LiDAR unit is initiated on the ground and nets a flashing green light to indicate "firing," it would be nice to have SOME kind of telemetry data from the LiDAR unit. Hopefully, these shortcomings will be fixed in subsequent firmware updates. I believe the hardware is in place, but that's another conversation for another day.
Anyway....enough of my yakin'. I look forward to exchanging ideas with other members of this forum.
D
Last edited: